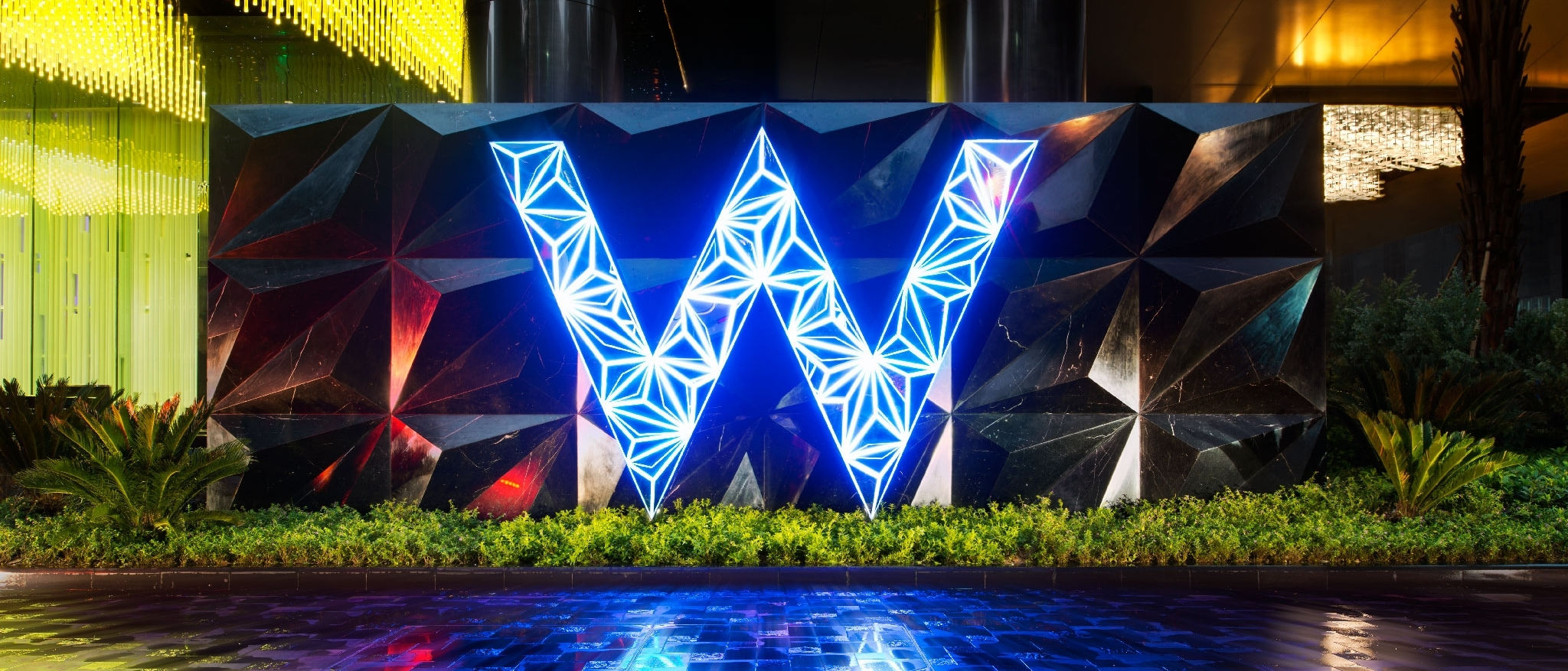 ESCAPE TO W GUANGZHOU
Welcome standout above the juxtaposition of storied contemporary urban tapestry, in the glow of W Guangzhou's eclectic energy. As the sleek black glass exterior mirrors charming thahouses and a luminous water wall entrance reflects the iconic Pearl River. The first W in mainland China, a landmark of modern transformation on a global stage - watch everything unfold from the front row.

A striking combination of colorful history and glitzy, neon modernity, Guangzhou—renowned as the "Flower City"—serves as the provincial capital of Guangdong. Within this metropolis, W Guangzhou sits at the heart of the pulsating Pearl River New Town District.

A rapidly evolving center of entertainment, commerce and design, this dynamic neighborhood remixes dozens of Fortune 500 headquarters and luxury shopping malls with some of China's oldest cultural treasures, including the city's famed ivory carvings, jade and wood sculptures, Canton enamel pottery and handmade embroidery.

Discover a selection of these artifacts at the Guangzhou Provincial Museum and Guangzhou Museum of Folk Art or in the Redtory Art District, which unites historical exhibitions with characteristic restaurants. Explore the Temple of Six Banyan Trees, an ancient Buddhist temple and renowned Buddhist cultural site built in 537AD, but don't miss Yuexiu Park. Constructed in 1952 and the largest park in Guangzhou, it features three artificial lakes and several monuments, including the Statue of the Five Goats, the Ancient City Wall of the Ming Dynasty and the Zhongshan Monument. Or soak up panoramic views of the entire landscape from Baiyun Mountain (White Cloud Hills) or the Canton Tower. Located in the Haizhu District, this soaring structure is among the world's tallest constructions.

Amplify any stay in the city with a roller coaster ride at Chime-Long Paradise: China's largest amusement park, with more than 70 rides and attractions. In the evening, energize with the city's famous native Cantonese cuisine, then jump aboard a night cruise on the Pearl River. These iconic tours depart from Tianzi Wharf or Dashatou Wharf, both just a short drive from the hotel.

Discover other Starwood hotels in Guangzhou, click here for more information.